Count on our Engineering Expertise to provide you with an effective Snubber Circuit Study
The Power Systems Engineering team at SnubberCircuitStudy.com can perform transient recovery voltage study and frequency response studies on transformers and associated system components using the Electromagnetic Transients Program (EMTP) and design methodologies to determine the transient response, and properly recommend transient mitigation equipment.
The switching transient study can be simulated in EMTP. The various transient concerns described above including primary switching of transformers, arc-furnace transformer switching, motor and generator switching, generator breaker transient recovery voltage (TRV) evaluation, capacitor isolated switching and back-to-back switching, switching of shunt reactors, series current limiting reactors and simulation of ferro-resonance and internal resonance.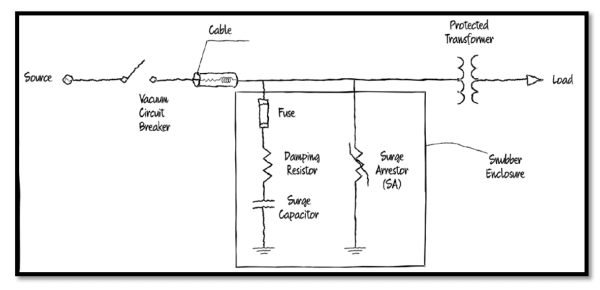 Why Snubber circuits?
When a snubber is connected to a device of choice, it can absorb voltage spikes and normalize any abnormality or disturbance in the voltage waveform. They are most effective in mitigating fast-rising transient voltages and in attenuating reflections and resonances before they have a chance to build up. They are also employed to reduce the frequency of an electrical disturbance.
Advantages:
A snubber circuit can reduce over-voltages and high frequency disturbances due to the following, but is not limited to
done A lightning strike
done A circuit breaker interrupting a transmission line
done Switching in or switching out of lightly loaded transformers
done Flashovers and restrikes after closing of circuit breakers
done Faults in the system
done Loss of generation and sudden changes in load
done Ferro-resonances
done Ferranti effect
done Switching of a heavily inductively loaded transformer for example in accelerating or stalled motors, arc furnace transformers and reactors
Snubbers are most useful for the protection of power transformers against high TRVs and abnormal frequencies.
Great Reasons to Choose Us
A team of experts with a strong forte in engineering design and power systems analysis. Providing in-depth assessments for your facility with a remarkable customer experience, Sunbber Circuit can get the job done in compliance with industrial standards.
Methodology
Snubbers usually consist of a capacitor connected in series with a resistor and both are connected in parallel with the desired connection poin t .  
Normal operating conditions
Under normal operating conditions, impedance of the capacitor is very high, effectively "isolating the resistor R from the system at normal power frequencies, and minimizing heat dissipation during normal operation.
High frequency transient conditions
Under high frequency transient conditions, the capacitor offers very low impedance, thus effectively "inserting" the resistor R in the power system as cable terminating resistor, thus minimizing reflection of the steep wave-fronts of the voltage transients and effectively dampening them.
Request For Quote
Providing comprehensive and innovative snubber circuit solutions for your data center or facility
For More Power System Studies

AllumiaX, LLC is a Seattle based company with a vision to be a global leader in Industrial & commercial power systems engineering, consulting, and field-services. We strive to be a leader by establishing a remarkable working relationship with our clients, hiring the most talented engineers and personnel, and delivering superior engineering design and services.
Our Office

Our office is located in Everett, WA. Please call or email for questions or inquiries.

http://snubbercircuitstudy.com
Users can contact us live using the chat option at the bottom right corner of the screen.if you require a quote for a power systems study, then you can email us at [email protected] or call us at (206)-552-8235.